CHESTNUT OAK FARM
Specializing in Unique and Traditional Colored Superior Quality Gypsy Vanner & Drum Horses
"WHERE ENGLISH TRADITION MEETS AMERICAN QUALITY"

Gypsy Vanner Stallion Standing at Stud!
Rosewater Cassidy SID of Chestnut Oak

Gypsy Vanner & Drum Horses Currently For Sale!
For Sale at Chestnut Oak Farm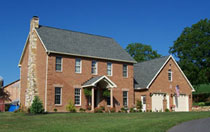 Welcome to Chestnut Oak Farm! We are a family owned and operated facility that specializes in breeding and sales of unique and traditional colored top quality Gypsy Vanner and Drum Horses for show, recreation, and companionship. We breed, show, and promote these versatile breeds and have some of the best and oldest bloodlines available.
We are located in the beautiful countryside of Beaver Springs in central Pennsylvania, just an hour north of Harrisburg.
Using carefully selected registered Gypsy Vanner mares, Drum mare, and Shire mares, we are breeding them to our superb quality registered Gypsy Vanner stallions. Rosewater Cassidy of Chestnut Oak 'Sid', a Taliesin son and Bishop grandson offers excellent conformation, athleticism, and traditional black and white coloring to our breeding program. High Valley Bonfire of Chestnut Oak, a Brackenhill Boots son and Alfie of Brackenhill grandson offers exceptional quality, legendary bloodlines, and a unique bay roan coloring to our breeding program. While truly believing in quality, not quantity, our foals are raised in a hands-on, caring environment, and handled daily. Each foal is imprinted at birth and receives the appropriate training per age level, giving it a solid foundation from the very beginning. From superior athlete to backyard friend, our horses are suitable for a variety of disciplines. They possess exceptional athletic ability and conformation, along with wonderful dispositions and beauty.
We offer quality young stock for sale each year so be sure to check out our For Sale page to see what we have available!
We have two beautiful registered Gypsy Vanner stallions at our farm. Rosewater Cassidy "Sid" of Chestnut Oak is a traditional black and white tobiano who is athletic and always in the blue at the shows he attends. High Valley Bonfire of Chestnut Oak is a solid bay roan with black feather and has an exceptional personality. Check out our Stallions page to find out more information these two amazing stallions!
ABOUT US
Owned by Scott & Wendy Rager and established in 2002, Chestnut Oak Farm is a 65 acre former dairy farm that was owned and operated by our grandparents. It has been in our family for 73 years! Dedicated dairy farmers, our grandparents gave each of their animals the highest quality care and respect, believing in hard work and possessing great values. We are proud to carry on that tradition by using those same values in our high quality horse breeding program.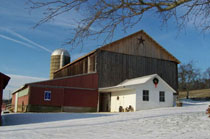 The large 1840's bank barn has been renovated into an 11 stall horse barn complete with three spacious birthing stalls, two feed rooms, large tack room, and a heated lounge/office. Modern windows have been added to allow for natural lighting and proper ventilation. Restoration of the old barn and surrounding facilities has been a family affair, with most of the work being done by Scott himself.
In 2002, we discovered the amazing breed of Gypsy Vanner and Drum Horses while looking through a magazine. It was love at first sight and after careful planning and research we've created our own breeding program and are dedicated to raising Gypsy Vanner and Drum Horses of the highest quality.
News & Updates
* * * * *
Chestnut Oak Farm
is a
proud member
of


American Shire Horse Association

and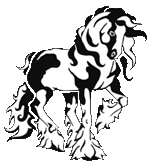 International Drum Horse Association