NEWS from Chestnut Oak Farm
TWO HOMEBRED DRUMS WIN DRESSAGE AT DEVON PA 9/29/2016!
We are proud to announce that two of our homebred Drum Horses competed at Dressage at Devon PA on September 29th, 2016! Two year old "Chestnut Oak's Luka" (Rosewater Cassidy x Steege's Zena) owned and shown by Deanne Hertzog-Heacock won 1st Place in the Drum Horse class sponsored by International Drum Horse Association with a score of 73.7% and 6th Place in Open Adult Amateur Handler with a score of 70.7%. Seven year old "The Exhibitionist of Chestnut Oak' aka 'Moon' (GSF Keebler x Steege's Beth) owned and shown by Wendy Rager won 3rd Place in the Drum Horse class sponsored by International Drum Horse Association with a score of 73.125%. Thank you to International Drum Horse Association for sponsoring this class so our beautiful Drum Horses were able to make an appearance at this prestigious international dressage show!

MOON'S 1ST DRESSAGE SHOW 7/9/2016!
Chestnut Oak Farm's homebred Drum horse gelding "The Exhibitionist of Chestnut Oak" aka Moon, attended his 1st USDF Dressage Show on 7/9/16 winning Reserve Champion and collecting a total of 334 points. This 7 year old beauty and his rider Amy Stoltzfus scored well in Introductory Level Test A, B, & C at the Williamsport Riding Club, Williamsport PA. His 1st time under saddle in any show ring, Moon took everything in stride and we couldn't be more proud of this boy and his accomplishments! See more of Moon on our 'Geldings' page!
RIO'S 1ST FOAL HITS THE GROUND 4/27/2016!
IT'S A HUGE FILLY!!! Born at 1:15am, Wednesday April 27, 2016! Beth was just 1 hour 15 mins past her typical Tuesday delivery! This gorgeous Drum filly has long long legs and heavy bone! Chestnut Oak's RIO'S Premier aka 'Prima', is a Silver Buckskin W20 Drum filly. She received 1 copy of W20 (white spotting) KIT from daddy. She looks so much like daddy - Silver Bucksin Homozygous Gypsy Vanner stallion GDR Sir Royal RIO Grande - this is his first foal and we are so thrilled with what he has produced!
3 GYPSY MARES ADDED TO BREEDING PROGRAM 2016!
It is with great happiness and pride we announce the addition of three Gypsy Vanner mares to our high quality breeding program! 'GHS Snow White' & 'GHS Summer Night' are both GVHS registered Gypsy Vanner mares. They are both Lenny's Horse granddaughters and out of Long Mane Mare (The Ace Horse x Bunny Holmes Good Mare). Standing at 14.3hh Snow White is by Silky Boy (Lenny's Horse x Daughter of Dulux Horse). She will be put into foal to our Homozygous W20 Silver Buckskin stallion Sir Royal RIO Grande for a spring 2017 baby. Summer Night is 14.2hh and by the gorgeous Chestnut Tobiano stallion Prime Time (Lenny's Horse x Fullers Mare). She is currently in foal to the Buckskin Pearl Tobiano stallion Skycastle Thor, a 15.2hh Sundance Kid son, and is due August 2016.

'SWF Blue Iris' is a double bred 'The Gypsy King' and 'Cushti Bok' great granddaughter! Two of the very 1st Gypsy Vanner stallions to set foot on American soil back in 1996 are in her pedigree! Her sire is VV Deja Blue (Vintage Vanner's Bommarito x Vintage Vanner's Treana) who is owned by Stillwater Farm in North Carolina, and her dam is Harkaway Poppy who was imported from Europe. Iris is GVHS registered and stands 15hh as a four year old. She is bred to Dancing Dreams Romeo (Nobby, Hustler lines) for a May 2016 foal. We look forward to being able to now offer both Gypsy Vanner & Drum Horse foals of superior quality with unique AND traditional coloring!
CHESTNUT OAK'S FOXY HOPE COMES HOME 2015!
Our beautiful Chestnut Oak's Foxy Hope - Bay w/red gene shire mare, first born foal on our farm back in 2006! This gorgeous girl has always held a special place in our hearts. We sold her and bought her back! She has had 5 years of professional dressage training, and we will be using her in our Drum horse breeding program. Hope is home to stay! Many thanks to her former owner who has generously given us this opportunity! For more information about this lovely mare visit her our MARES page.
MOON COMPLETES FOUR MONTHS DRESSAGE TRAINING 2015!
Our beautiful black and white Drum horse gelding The Exhibitionist of Chestnut Oak aka Moon completed four months of professional dressage training in fall 2015. We look forward to taking Moon to a few dressage shows in 2016 and showing just how athletic and versatile our Drum horses are. Check out Moon's video on our GELDINGS page to see his superb movement!
ROSEWATER CASSIDY 'SID' WINS HIS 4TH CHAMPIONSHIP 2015!
We had a successful show season this year as our magnificent Gypsy Vanner stallion Rosewater Cassidy "Sid" of Chestnut Oak Farm proudly won his 4th CHAMPIONSHIP! Shown in halter by Wendy Rager and Sara Varner Sheaffer in Showmanship and ridden classes at the 10th Annual McClure Bean Soup Festival and Fair Horse Show 9/12/15 at Moondust Meadows in McClure, PA. Wendy & Sid also took 1st place in Halter Color Breeds, and Halter Draft Horse/Draft Cross, while Sara & Sid took 2nd in Adult Showmanship and also placing 1st in Green Horse Walk-Trot (English), and Equitation Novice Rider Adult (English). They placed 2nd in All Day Pleasure Walk-Trot (English).

WooHoo!! "Sid the Studman Cassidy" and Sara Varner Sheaffer took 5th place in the "Catalog Race" at the Beaver Fair Gaming Show held 9/20/15. You would never know this boy is a stallion, they did a fantastic job!
CAPTAIN & JAG DELIVER BRIDE TO HER WEDDING 2015!
Our beautiful Shire horse team "Captain & Jag" had the privelage of delivering the bride and her bridesmaids to her wedding at the Amy Good/Joseph Stoltzfus wedding on Saturday June 6, 2015. The boys looked dashiing and majestic in their braids and white roses. Special thank you to Olivia Hunter, Brad Sauers, and Brittany Folk for all your hard work and help in preparing Captain & Jag for this special occasion. Also thank you to Scott Rager and James Moist for driving the team and wedding party.
CAPTAIN & JAG PAINTING DONE BY LOCAL ARTIST 2014!
This beautiful watercolor painting of our Shire draft horse team of geldings entitled "Captain & Jag" was done by local artist Patricia Brandt of Selinsgrove and was featured in The Sunbury Daily Item on 10/9/14! Patricia photographed the pair earlier this year. The painting was accepted into the American Academy of Equine Art Show in Lexington, Kentucky and is on display thru October 25th, 2014. Patricia is an amazing artist capturing the true essence of the horses she paints. For more information or to purchase a print of this painting, please visit her Facebook page at "Equine Art by Patricia Brandt". For more information about Captain & Jag visit the geldings page of this website.
ROSEY & MOON - GREAT 2013 SHOW SEASON!
Kuddos to a fantastic 2013 show season to our Brabant Belgian mare Rosey Grey and our Drum Gelding The Exhibitionist of Chestnut Oak aka "Moon". On 7/27/13 Rosey and her partner Olivia Hunter took 3rd place Halter Open, 2nd place Halter Draft/Draft Cross, 2nd place Bareback Walk-Trot, 1st place English Equitation, and 1st place English Pleasure at Moondust Meadows Open Horse Show! Moon was shown by Gabrielle Benner on 4/27/13, and again on 7/27/13 at Moondust Meadows Open Horse Show. The two placed 1st Halter Color Breeds, 1st Halter Draft/Draft Cross, 3rd Showmanship Adult, and 1st Halter Color Breeds, 1st Halter Draft/Draft Cross, 2nd Showmanship Adult, then on to win RESERVE CHAMPION HALTER! Congratulations to all for a great job!
NEW SILVER BUCKSKIN STALLION ADDED TO BREEDING PROGRAM 2013!
We have added another young Gypsy Vanner stallion to our breeding program. He is a Solid Silver Buckskin with Red gene and will offer extraordinary color to our upcoming foals! Sir Royal RIO Grande boasts a DNA verified pedigree that includes some of the best and oldest Gypsy lineage bloodlines available! His sire is Romi OG Olivers Gold, by Coates Oliver UK, going back to Billy Boy, Lob, Original Kent Horse and Old Paddy Horse. Dam is the silver dapple mare GDR Rosies Royal Marilyn Monroe by Sir Royal Excalibur, the 1st Silver Dapple Gypsy imported to North America! Royal is by The Boss UK, by Roadsweeper UK by Coal Horse. RIO will be on the large side for a Gypsy Vanner, maturing to 15+hh, watch for his foals beginning in 2016 and be sure to check him out on our stallions page!
CHESTNUT OAK FARM MAKES 2012 PA FARM SHOW HISTORY!
PA Farm Show history was made when Chestnut Oak Farm and their team of Shire geldings, Deighton Panther (Jaguar) and Rusking Charlie (Captain) placed 2nd in Mated Team Halter, January 6th, 2012. This was only the second time in history that the Shire breed competed at the Farm Show, with the first being last year when Chestnut Oak entered their Shire mare, Steege's Zena, and won 1st place. Captain placed 2nd in Mated Team Halter with his teammate Jaguar, as well as winning 7th place in the Shire/Clydesdale Gelding class. Jaguar also placed 5th in Shire/Clydesdale Gelding class, 5th in Youth English Riding, 4th in Shire/Clydesdale Men's Cart, and 7th in Shire/Clydesdale Ladies Cart Class. The two posed for photos afterward and drew quite a crowd as adults and children alike waited in line to meet and lay their hands on these two furry friends.
COF ATTENDS 2ND ANNUAL 2011 NE FEATHERED HORSE CLASSIC
Chestnut Oak Farm attended the 2nd Annual Northeast Feathered Horse Classic Show held June 3-5, 2011 at the Westmoreland Fairground in Greensburg, PA with two of their finest horses. 2007 Gypsy stallion, Rosewater Cassidy (Sid), handled by Wendy Rager did exceedingly well placing 2nd in open Grooming/Conditioning, 5th in Gypsy stallions 3 & over, 4th Gypsy Color Patterned, 1st in Gypsy Liberty, and an impressive 1st place in Gypsy Dressage Suitability In-Hand with a score of 83%! 2009 Drum gelding, The Exhibitionist (Moon), handled by Olivia Hunter, placed 1st in Drum stallions/geldings 2 yrs and under, going on to win Grand Champion Drum Horse! He also placed 6th in open Grooming/Conditioning, 2nd Drum Color Patterned, 2nd Drum Horse Dressage Suitability In-Hand, 3rd in Gypsy Liberty, and was Reserve High Point Drum Horse. Both boys were very well behaved and excellent examples of their breeds. The American Drum Horse Association sponsored the Drum classes and had a beautiful booth set up with the gracious help of Scott & Wendy Rager and Olivia Hunter. Many questions were answered as folks stopped by to see these two magnificent horses.
4H GROUPS VISIT CHESTNUT OAK FARM JUNE 2011
June was a month of learning about the draft horse breeds at Chestnut Oak Farm for two local 4H Groups in Pennsylvania. The Selinsgrove Twilight Riders and the Juniata County 4H enjoyed their visit as they learned about the various draft horse breeds, their care, development, and history. The groups held their meeting at the farm with snacks following and gathered as much information as they could about these fantastic horses. Many photos were taken as the students had a hands on presentation, while asking questions and meeting each horse personally. We invite these 4H groups or any other organization that wants to learn more about the breeds to visit our farm.
CHESTNUT OAK FARM BRINGS HOME BLUE AT 2011 PA FARM SHOW!
Chestnut Oak Farm, a local area horse breeding farm located in Beaver Springs, PA attended the 95th Annual PA Farm Show in Harrisburg, PA with two of their rare breeds of horses, the Shire Horse, and the Brabant Belgian. Shire mare, Steege's Zena won 1st Place in her Halter class judged by Bob Black from Canada, and was the first Shire to ever compete at the Farm Show! Brabant Belgian mare, Rosey Grey, was ridden by Olivia Hunter and competed in the Draft Horse Western Riding class. Together the two proudly won a 6th place ribbon. Rosey is the first Brabant Horse to be accepted into the shows' Draft Horse Program. Many visitors stopped by the stalls to see Zena and Rosey and enjoyed hearing about these two unique breeds!
MOTHER & SON SHOW THEM HOW IT'S DONE 2010!
Our American Drum Horse Gelding, "The Exhibitionist", and his dam, Shire mare, Steege's Beth, competed at the 2010 Bean Soup Festival and Fair Horse Show and bring home the Blue, winning Grand Reserve Halter! The first ever show for "The Exhibitionist", he performed exceptionally well, winning 1st place in color breeds, and 1st place in Weanlings/Yearlings. He was handled by Wendy Rager. Steege's Beth won 1st place in Open Halter, going on to win Grand Reserve Champion Halter, then was in the ribbons in under saddle classes! Brittany Folk did a great job of handling and riding Beth. Being an open show, the competition was all light breeds with a quarter horse judge and was a great experience for everyone, way to go!
ROSEY GOES TO COLLEGE 2009!
Our highly versatile Brabant Belgian mare, Rosey Grey has proven herself again, being accepted into Wilson College's Equestrian Center in Chambersburg, PA! She is being leased by Wilson College and has joined her favorite student and rider, Olivia Hunter as they begin their new adventure this fall. Being used as a lesson horse is just the beginning of Wilson's plans for Rosey. This special mare is also used for Western Club, Jumping, Therapeutic riding, Vaulting, weekend lessons for youngsters, and best of all, is performing on the Wilson College drill team during Open House, Saturday October 17th 2009! A great ambassador for the versatile draft horse breed, we are extremely proud of Rosey as she continues to touch the lives of others.
BETH WINS GRAND CHAMPION HALTER AT 2008 BEAVER FAIR!
Our shire mare, Steege's Beth won Grand Champion Halter Horse at the 80th Annual Beaver Fair in Beaver Springs, PA, held in September 2008. We are especially proud as this is the second year in a row that one of our mares has earned this title! Last year Steege's Zena brought home the blue. There were a lot of beautiful horses, all light breeds, to compete against, but the judge seemed to be drawn to our big girl as she stood with her head held high. Beth, handled by Brittany Folk, did a fantastic job wowing the spectators and later stood quietly while giving children the opportunity to sit atop her back. Congratulations to them both for a job well done!
ROSEY & OLIVIA PARTICIPATE IN 2008 4-H COUNTY ROUND-UP
Once again, Rosey Grey and her partner, Olivia Hunter participated in the 4-H Snyder County Round-Up held at Buffalo Valley Riding Club, Lewisburg, PA, on July 12, 2008. Olivia said she doesn't mind being the only rider using a "draft" horse for gaming and other classes as well, since Rosey actually "holds her own" and does very well considering her size and stature. They competed in four classes earning a 4th place ribbon in Senior Showmanship, 3rd in Keyhole, 4th in Poles, and a 4th in Barrels. They have really developed quite a fan club and enjoyed being cheered on by the crowd as they stirred up the dust during the gaming events. It would be great to see more draft horses out there competing and showing others just how versatile and athletic they really are! Congratulations to them both!

Recommended Links


American Shire Horse Association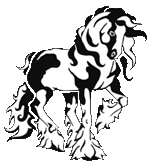 International Drum Horse Association